💃💪The Secret? Play to Your Strengths 💃💪
EDITION 9 / JULY 2022
"What are your strengths?" is a common, sometimes dreaded, question in a job interview. Most of us respond to the question based on a definition we learned as kids: Strengths are activities we're good at. Simple. Yet, we often end up in careers doing things we're good at, but don't enjoy. Even more, the things we're "good at" may drain us. What gives?
Early in my career, I was the person who did whatever needed to be done. I told myself I was a hard worker and team player. My role as a junior designer required me to participate in all aspects of the process: pitching the client, writing the proposal, conducting research, exploring concepts, giving client presentations, executing the design, making blueprints, managing the project paperwork and billing the client. 😣
I never thought about my strengths or weaknesses (or happiness) as I wanted to be indispensable to my employer.
One day after I finished a presentation, my manager complimented me on my ability to synthesize a wide range of data into succinct strategic insights.
Thank you! Really, me? Doesn't everyone do that well? (I later learned – no, they don't.)
Not only was I good at it, I enjoyed the work and it energized me. It was exciting and fun! Soon thereafter, I discovered Don Clifton and Marcus Buckingham's work codifying a new definition of strengths:
A strength = Something you love doing + that energizes you + you're good at, or hope to be soon.
WOW. In other words, a strength is something that makes you feel strong. Suddenly, I understood my strengths in an entirely new way. Additionally, I learned that a weakness is something that makes you feel weak – which may include things you're good at and not good at. Huh? Yes. you may be good at something BUT if it's draining and unenjoyable, it's a weakness because it makes you feel weak. 🤯 See how that works?! For me, I was good at synthesizing a lot of information into strategic insights and I loved it. Doing that fueled my energy. That's a strength! On the other hand, I was highly competent at designing but I didn't *love* it. I loved other parts of the process more. So for me, designing was a weakness. DING DING DING!
Armed with a new definition and awareness about my own strengths, I was determined to find a way to play to them even more. Initially, this led to a heart-to-heart talk with my manager and a lateral move away from design to a new company as a strategist. I stayed with that same company for many years and continued my strengths quest. Fifteen years later, with numerous promotions along the way, I became the company's CEO.
Though YOU are the final and best judge of your strengths because only you know how you feel, sometimes another person can hold up a mirror to help you truly see yourself.
A new perspective is what unlocked something for me. That, coupled with self-awareness and self-advocacy, helped change the trajectory of my career. When I no longer allowed myself to be stuck in a role simply because I was competent at the assigned tasks, I pursued what energized me. And guess what? That's when I started creating more impact – and feeling happier at work and home. ✨
Read on for more tips, ideas and to learn how Equipt helps you reveal your strengths as part of our signature program Momentum. 🐥 ⏰ 👏 Early bird pricing ends July 20th, so sign-up soon!

Over the month of July, pay attention to the activities that make you feel strong, happy and energized. Write them in the "Loved It" column. (A good cue is when you lose track of time doing an activity.) For activities that make you feel weak, drained or bored, write those in the "Hated it" column. (A good cue is when you procrastinate or muscle through something.) At the end of the month, the activities in the Loved It column are good indicators of where your strengths lie while the activities in the Hated It column are indicators of your weaknesses. Download our worksheet here.
Keep track of how you feel in 

real-time

. Don't try to remember how you felt a few days or weeks ago.

Focus on the activities where you are the active 

doer

.

Remember, you can be 

competent

 at an activity but it may go in the Hated It column if you don't enjoy it or find it draining.

If it's more convenient, use your phone or carry a journal to track your activities.

This is a good exercise to do at least once a year as a check-in. Your strengths and weaknesses may change over time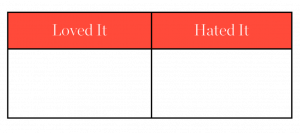 Supplement  your Loved It / Hated It results with the High 5 Test, a free strengths test that's helped 2M people discover what they are naturally good at.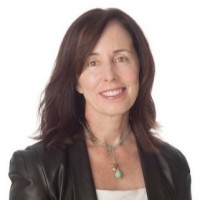 Katy Mooney is the Co-founder and Chief Learning Officer at Equipt Women. For years, Katy has been a sought-after instructor at tech companies in Silicon Valley and is the cohort leader of Momentum, Equipt's 8-week program to accelerate your work.life. Week 3 will focus on Strengths – what are yours and how you can apply them more often. Space is limited so sign-up early!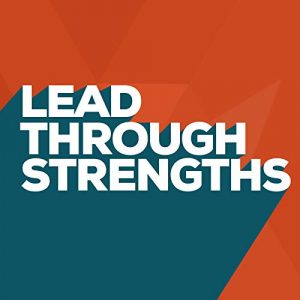 Lisa Cummings, the host of the Lead with Your Strengths Podcast, is a Gallup Certified Strengths Performance Coach. In her podcast she shares real life snippets from Q&A sessions with corporate teams and advice on how to use it in your own life. 
Our Members continue to share issues they are struggling with and we'll highlight one or more in each newsletter.
It's understandable. Newness often breeds awkwardness! A new way of thinking about strengths and weaknesses takes time and practice. Resist the urge to be clever. (And please, whatever you do, don't answer with "My greatest weakness is that I care too much.") When you get the "Tell me about your biggest weakness" prompt in your next interview, try this type of response:
| | |
| --- | --- |
| | Recently, I learned a new definition for strengths and weaknesses. For example, a weakness can include something I might be good at or capable of doing but I don't enjoy it and it drains me. With that new definition, my greatest weakness is: <Share an activity that you are good at, but drains you>. |
Then, elaborate on why the activity drains you or you don't enjoy it. Is it conceptualizing because you thrive at execution? Maybe it's public speaking because your best ideas are conveyed in writing. Or perhaps it's project management because, though you're good at it, you simply don't enjoy it.
Employers appreciate a thoughtful response to this question. And, it will help them align you with work that plays to your strengths and enables you to create the most impact.
Remember, competence alone is not a strength and incompetence alone is not a weakness. Pay attention to your energy and sense of enjoyment, too.
Don't be afraid to use this new definition to showcase your investment in self development and growth 💛

Equipt Women Founding Members participated in weekly sessions focused on topics such as Strengths, Values, Feedback, and more.
Here's what Lauren Abeles, Equipt Women FM and Senior Product Manager had to say after completing the program:

As JLo said, "Don't push your weaknesses, play with your strengths."
Be you. Be strong 💫,
Kelly Mooney
Founder and Chief Empowerment Officer