❤️‍🩹 Mental Wellness Impacts All of Us ❤️‍🩹
EDITION 11 / SEPTEMBER 2022
Mental health awareness wasn't a "thing" when I was growing up. If I was struggling or needed support, my mom would tell me to "buck up", so I did. I think. My mom's way of dealing with me was a reflection of how she treated herself. She routinely internalized her feelings, neglected her needs, and created a family culture that mirrored her own (unhealthy) patterns of minimal self-care.
The closest thing I had to mental health awareness as a middle schooler was a glimpse of the hardback 📙, I'm Okay. You're Okay by Thomas Harris, on the side table in my parent's bedroom. After dinner, my mom retreated there with a cup of coffee in hand, closing the door for 20 minutes of uninterrupted reading. This quiet ritual was her much-needed (and well deserved) respite after tending to the daily needs of  9 kids.
Looking back, I think her silent coping conditioned me to keep things inside and power through my own struggles, just like she did. And, no matter what, forgo asking for help – since that was a sign of weakness. At least, that's what my young brain believed.
Years later, I began to experience the cumulative effect of my unhealthy habits. Driving to work one day, I could feel my heart pounding and mind racing from all that I was trying to "power though": a teary toddler drop-off at daycare, the stress of layoffs after the dotcom bust, the pressure of making payroll, a manuscript deadline days away, a client demanding a last-minute trip across the country, and a close friend needing emotional support during a traumatic divorce. IT WAS ALL TOO MUCH. I recall thinking it would be easier to be in a car accident. (Crazy, I know.) Not one that would seriously injure me or others. Just enough to be hospitalized. And, not for too long, of course.
Clearly, I wasn't "okay." I had too little sleep, a poor diet and a dearth of self-care routines because I was tending to the needs of everyone else. Why didn't I ask for help? Draw more boundaries? Admit that I didn't have all the answers? 🤷‍♀️ That I was neglecting my self-care is obvious now but it wasn't then. Back then, I didn't have the skills or support system I needed to be my best (see my BYOB post to learn of one of my acquired survival strategies). I thought I needed to be strong, resilient and unflappable because it wasn't "okay" to be vulnerable. I thought I had to show others the way forward with confidence, insight and courage. (Now I know I was simply repeating the same pattern I learned watching my mom.)
Boy, was I wrong. I needed to ask for help. To draw boundaries. To say "yes" to me and "no" to other things and people that were less important. Luckily, I had an awakening before I teetered over that edge and took steps to prioritize my mental health and wellbeing I hired a coach, I changed my diet, and started sleeping more. It was a game changer.
Thankfully, a lot has changed since that dark time in my life – for the better. 💛
As a society, employers and colleagues, we're now openly discussing the importance of mental wellness. Deloitte's recent 2022 Women@Work research revealed that more than half of women surveyed reported feeling more stressed than they were last year. 38% of millennial workers and 46% of Gen Z workers say they are stressed or anxious all or most of the time.
The pandemic has exasperated anxiety, disconnection and loneliness requiring employers to step-up their efforts to attract, engage and retain talent. This will require significant cultural changes, empathetic leadership and new programs designed for support and well-being. Things like flexible schedules, free or subsidized lifestyle coaching and counseling, continuing education and access to employee resource groups are examples of the needed solutions.
It's also why I am on a mission to help early career women get the skills, support and coaching they need to thrive. It's why we launched Momentum, a one-of-a-kind online program focused on self-reflection, self-discovery and community.
It's why I am thrilled to interview Achea Redd, mental health author and advocate, on Tuesday, September 13 where she'll share her personal journey to mental wellness and tips for cultivating your own.
Mental wellness is a thing, a real thing, that needs tending to. By all of us. Individuals. Teams. Companies and institutions. Because if we take care of our mental health, I believe we really will be okay. 👌
Achea Redd makes mental health awareness her mission—because for her, it's personal. In 2016 Achea, daughter of a pastor and wife to NBA legend Michael Redd, was diagnosed with Generalized Anxiety Disorder. Achea uses her own life experience and mental health disorder to help women find their voice and let it out.
Sangu Delle, entrepreneur and TED Fellow, shares how he learned to handle anxiety in a society that's uncomfortable with emotions. "Being honest about how we feel doesn't make us weak — it makes us human."
Naomi Osaka, professional tennis player, had the courage to share her personal struggles with mental health and gave insight into the difficult decisions where she put her well-being first.

The I Weigh Podcast, hosted by Jameela Jamil, is all about radical inclusivity and building a community where no one feels alone. 🎙 

Our Members continue to share issues they are struggling with and we'll highlight one or more in each newsletter.
The first step to getting more support is recognizing that you need help. So well done ✅
To start, consider the challenges you're experiencing and how they are impacting your performance, energy and overall well being. What support do you need to be your best?
Next, consider where to go for support. Is your manager a safe, supportive person for you? Have they talked about their own health or shared personal challenges? This level of authenticity builds trust and can be telling. If you need to go to someone other than your manager, HR can be a good place to start.
Once you've decided to share your experience, schedule time to talk one-on-one in private. Share the impact your mental health challenges are having at work. Come prepared with requests for how your manager or HR can help you. For example, have ideas about what changes or resources you would benefit from. . Offer to co-create solutions and give them time to reflect and circle back with next steps.
Lastly, educate yourself about the protections and benefits you're legally entitled to as an employee. Resources vary by company and legal protections vary by region, so check your company's HR Handbook and your local regulations, if possible. This way, you can advocate for yourself if your employer falls short or is unsure how to support you.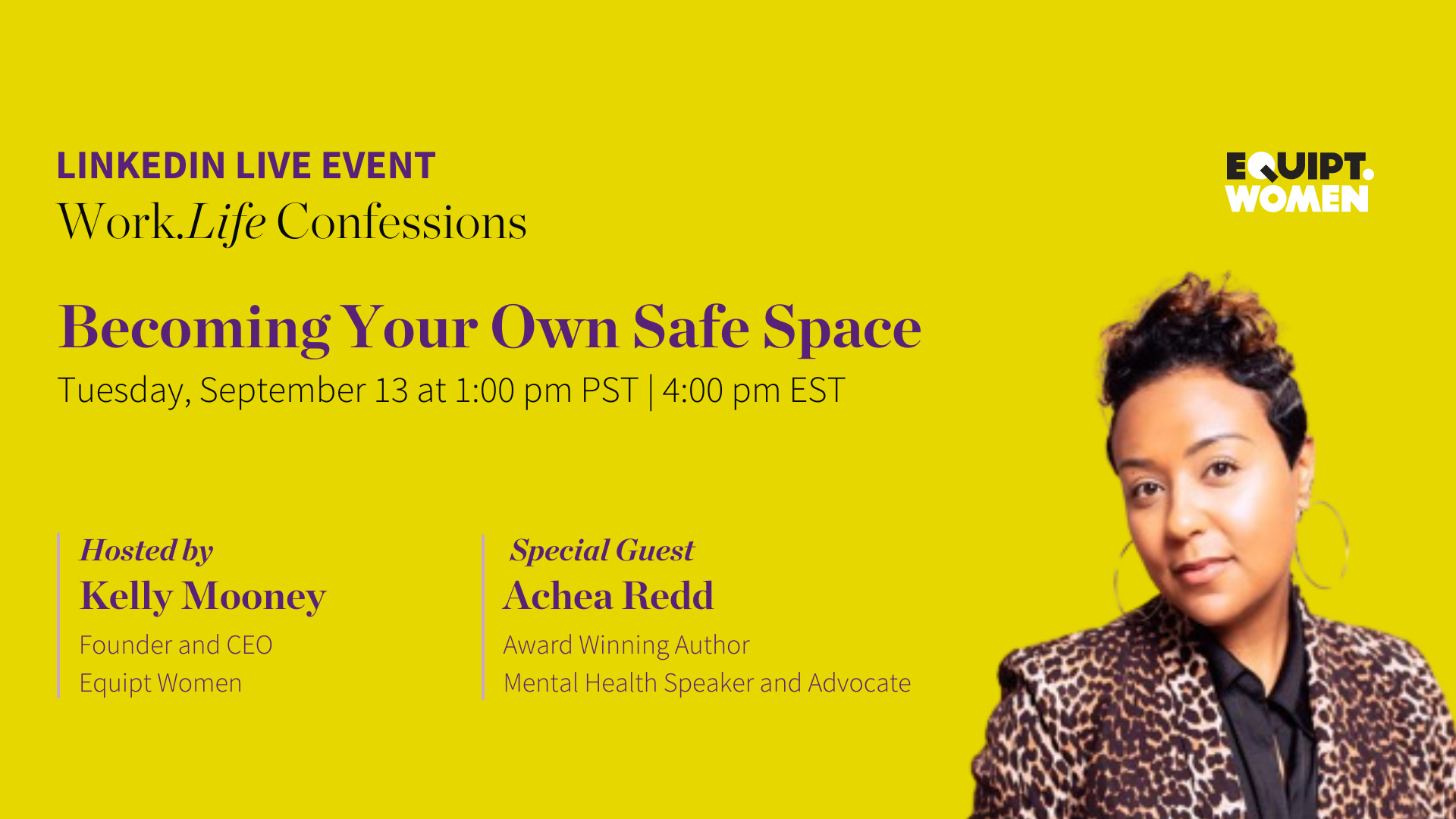 I'm okay….you're okay and we can do this, together 💛,
Kelly Mooney
Founder and Chief Empowerment Officer