🧭 Connect With Your Inner Compass to Create a Work.Life You Really Want 🧭
EDITION 8 / JUNE 2022
When I was 23, my first manager suggested I write down my values. I wasn't sure what that meant. What are values? What are my values?! 😬 I thought it was a useless exercise at the time, but I did it anyway. After some reflection, I settled on five core values: Creativity, Respect, Collaboration, Integrity and Excellence.
Five years later, new leaders joined the company and I started having unpleasant interactions with them. Their behavior was condescending, disrespectful, unappreciative and inflexible – towards me and others – and negatively impacted the vibe of the entire company. No longer cool and collaborative, my workplace had become hostile and negative….and a place I didn't enjoy working.
I phoned my former manager looking for his sage guidance. Should I leave the company? Confront the bad behavior? Suck it up and stay quiet? Something else? His advice was simple: "Revisit your values and the answer will reveal itself."
I followed his advice and he was right. Again. The answer was clear: I needed to move on. Why? Because I was fighting against a set of company values that weren't aligned with my personal values. I wanted to be part of an organization that was values-driven and cared about the same things I cared about.
It was the best decision I ever made. Why? Because everything starts with values.
Values are your inner compass 🧭, your 💛's deepest desires, and what you care about and believe in most 🤗.
They drive how you behave as a human being and the choices you make for your life – in friends, life partners, homes, jobs, careers, how you spend your time and who you spend it with.
In short, values influence every decision you make (whether you realize it or not). When you know your values, you know yourself and become rooted in who you really are.
Experts agree.
Idowu Koyenikan, an acclaimed organizational consultant and author says, "a highly developed values system is like a compass. It serves as a guide to point you in the right direction when you are lost." According to research by Stanford neuroscientist Jamil Zaki, we respond positively and report increased happiness when we share values with those we live and work with (Business Insider).
Diane Flynn, co-founder of the ReBoot Accel shared, "those who are fulfilled at work spend time constantly assessing their values — which change throughout life — as well as their skills and dreams. This takes time, but I am 100 percent certain that this process results in greater happiness at both work and home."
Knowing your values is….well, invaluable.

For expert guidance on identifying your values and so much more, check out our new 8-week intensive, Momentum. It's a deep dive into self-discovery and personal development for young professional women who want to become more confident, skillful and promotable.
And we're bringing executive level coaching to young women in an intimate group setting to help them become more effective, confident and fulfilled with Equipt Women's Coaching Pods.
Introductory pricing offered until July 20 and space is limited so sign-up early!

Short on time ⌛? Personalvalu.es is a research-based quiz that helps you discover your core values. It's a fun, quick way to get started!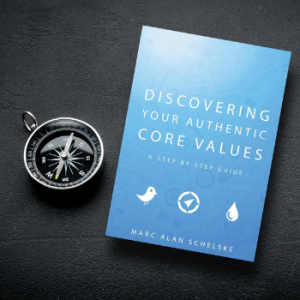 Discovering Your Authentic Core Values 📖 by Marc Alan Schelske is a step-by-step process for identifying your authentic core values. This handy little book guides you through a process to uncover your internal motivations that inform what your values are. 
Our Members continue to share issues they are struggling with and we'll highlight one or more in each newsletter.
"I've struggled with defining my values because I feel guilty that some of them are not positive – such as money or fame or success. How can I reconcile this?"

– Marissa, 30
Women often feel guilty for saying they want to be wealthy or identifying a value such as fame or success as something they care about. A fear of being judged sets in. Sound familiar? 😉
When you're in the process of discovering your values, a good place to begin is with yourself. Get honest about your true aspirations and the life you want to create.
There's nothing inherently wrong with wanting to be wealthy, successful or famous. The question is this: are those things you really want and care about? Or, are those things you think you should want and care about?
Ditch the should filter and ask yourself what is true for you. (There's no right answer.) Stop listening to your family, your co-workers, and the culture. Start listening to yourself. Though it may feel uncomfortable or confusing at times, this is the work worth doing to have the work.life you truly want. Because when you're clear on your values, you're clear on who you really are.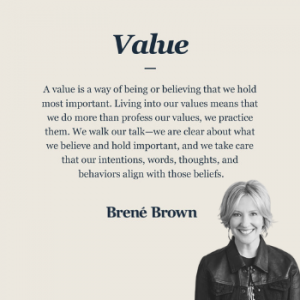 Brené Brown knows the most powerful way to double down on our personal growth is to get clear on our values and the behaviors that support them (and the 💩 that gets in the way). Tune into this episode of Unlocking Us as Brené talks through this game changing value exercise! Download the PDF to get started.
Jan Stassen is the co-founder of the Museum of Values and CEO of the cocreation.loft in Berlin. After working in the field of advertising for many years and building frustration and burnout, he started reflecting on his own values and focusing on what is actually important to him. This internal journey led him to create the Museum of Values which he talks about in his TedTalk on 'Why Values Matter'. 

Equipt Women Founding Members participated in our 10-week program focused on topics such as strengths, values, feedback, and more.
Here what Claudia Esber, Equipt Women FM and Executive Assistant at Disco, had to say after completing the program: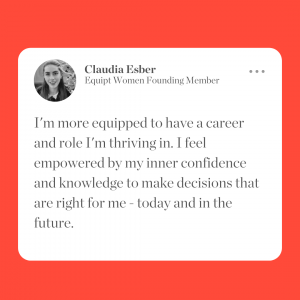 As Roy Disney once said, "It's not hard to make decisions when you know what your values are."
Stay true to you ✨,
Kelly Mooney
Founder and Chief Empowerment Officer